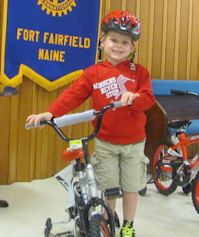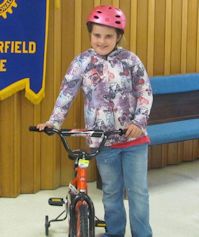 What do you have when you have eighteen smiley-faced youngsters, brightly-colored bike helmets, three new bikes to give away, six volunteer Rotarians, and pouring rain? A Bike Rodeo of course!!!
Hoping for a break in the weather everyone gathers at the bike safety riding course on Main Street. It's not raining but the skies are threatening. Helmets are displayed, registration begins, and alas, so does the rain. Not to worry, Rotarian Carl leads the bicycle version of follow-the-leader as the bikers and parents move up the street to the St. Paul's Episcopal Church annex.
A free, properly sized, very brightly-colored bicycle helmet is provided for each youngster. Oh, did I mention the smiling faces? Officer Jim Cerrato provides bike safety instruction including proper helmet positioning, and hand signals for turns and stopping while maintaining control of one's bicycle.
With faces aglow with anticipation, the moment all are waiting for arrives. The raffles for the three giveaway bikes are at hand. One-by-one Rotarian Kevin draws the winner's name for each age group.
Age group 2-5, Jack Helstrom
Age group 6-8, Macy York
Age group 9-12, Alex Oakes
And what better way to end the festivities than lunch. Each rodeo participant is given a ticket for a free hotdog lunch and it's off to the KoC Hall to enjoy hotdog, fries, and a soda. Rain, what rain? Everyone knows that it never rains on the Bike Rodeo!
A big SHOUT OUT to the parents who braved the rain to bring their youngsters out, and Rotarians Effie and Kevin Murchie, Stephanie Beaulieu, Larry Plant, Dale Ames, and Carl Young. Let's do it again next year. J