2019 Bike Rodeo (MPBF)
The Fort Fairfield Rotary Club was happy to host 21 junior cyclists, their families, and one adorable toy bunny at the 2019 Bike Rodeo. Attendees learned valuable bike safety skills from FFPD Reserve Officer Jim Cerrato, picked up a new bike helmet, entered for a chance to win a bicycle, and enjoyed lunch at the Knights of Columbus afterwards. Many thanks to the Fort Fairfield Police Department for their continued support of this popular, fun, and informative program!


New bikes waiting for drawing winner riders


Let's get registered


Ages 2-5 Bicycle Draw Winner, Logan Kilcollins


Ages 6-8 Bicycle Draw winner, River Ouellette



Ages 9-12 Bicycle Draw winner, Jack Helstrom with Rotarian Kevin Murchie

Check for proper helmet fit
Reigning Misses Get Royal Ride
What a day to enjoy a parade! Many thanks to Rotarian George McLaughlin and family for another beautiful Rotary float this year and to the 2019 Fort Fairfield Misses for reigning over a beautiful afternoon! We wish everyone a safe and fun Maine Potato Blossom Festival weekend!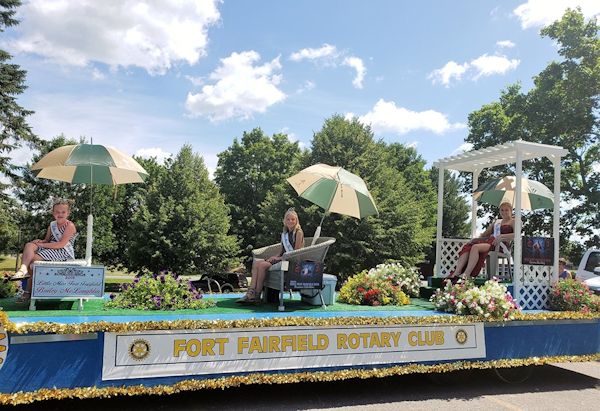 Our 2019 Fort Fairfield Misses and a beautiful Rotary float!


2019 Little Miss Fort Fairfield, Bailey McLaughlin


2019 Junior Miss Fort Fairfield, Brianna Osterblom


2019 Miss Fort Fairfield, Cammi Rae King


A "hello" from U.S. Senator Susan Collins.


2018 Combined Annual Meeting
The Fort Fairfield Rotary Club (FFRC) recently held its Combined Annual Meeting with, and hosted by, our sister club the Rotary Club of Perth-Andover, New Brunswick, Canada at the Aroostook Valley Country Club (AVCC), Fort Fairfield, Maine, USA.
Following a delicious AVCC-provided dinner the evening was highlighted by slide presentations from Romane Gelly, Long-Term Exchange Student from France to the Perth-Andover club and Olivia McCarthy, Short-Term Exchange Student to Italy sponsored by the Perth-Andover club.

Both club presidents provided short presentations covering club-year 2018-2019 activities and introduced officers for the coming year.


Presidents Marsha Lang, Perth-Andover, and

Tracy Copeland, Fort Fairfield,

provide remarks

Romane provides slide presentation remarks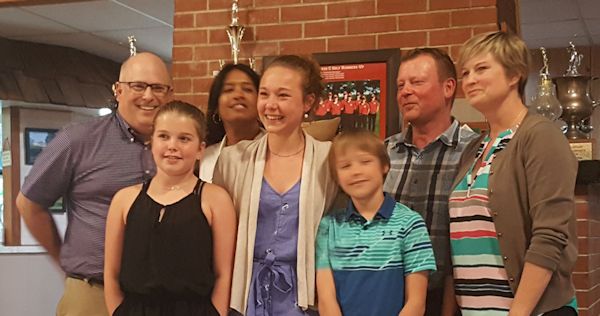 Romane with host families


Louiselle St. Amand and Olivia share a moment


Olivia with family and friends


Tracy welcoomes new Rotarian and incoming President-Elect Amy Dubay. New Rotarian and incoming Secretary not present for photo: Dianna Leighton


Larry Plant receives his perfect attendance pin from Tracy


Wayne Troicke receives his perfect attendance pin from Tracy


Carl Young receives his perfect attendance pin from Tracy. Or is Tracy receiving his perfect attendance pin from Carl? Actually it's both! Prefect attendance recipients not present for photo: Kevin and Effie Murchie.


Perth-Andover incoming officers joined by outgoing President Marsha


Fort Fairfield Rotarians present


Outgoing President Marsha receives a gift from incoming President Rhonda Kennedy