Vidalia Onions Available
So you, or someone you know, missed out on ordering sweet Vidalia Onions this year. Wow, what luck! You can still support the club's fundraiser and enjoy these sweet beauties. Turns out the club has several extra bags, 25 pound bag for $25. If you know a Fort Fairfield Rotarian, touch base. If not, call 472-3643, leave a message and we'll get back.
Vidalia Onions Fundraiser Thank You
Fort Fairfield Rotarians unloaded 8,500 pounds of SWEET Vidalia Onions this morning. This means that these beauties will be delivered all over The County from Houlton to Fort Kent and all points in between during the next few days.
The club wants to give a big shout out THANK YOU to Hillside IGA and K-Pel Industries for much appreciated assist getting the onions to us, and another Thank You to our many Annual Vidalia Onions Sales fundraiser supporters.
ENJOY!!!


Rotarians Wayne Troicke, Kevin Murchie, Larry Plant, Carl Young, Amy Dubay - Photo by Tracy Copeland

RSSA Nov-Dec 2018
Cammi King and Skyler Ouellette were honored at a January club meeting as the club's Nov/Dec 2018 Rotary Spirit Student Award recipients. Cammi and Skyler were nominated by Fort Fairfield Middle High School faculty members Kelly Koziol and Garrett Martin respectively and are now eligible to be selected as the Rotary Spirit Student of the Year for school-year 2018-2019.

Cammi with family and Kelly Koziol, faculty nominator (front left) and Tracy Copeland, club President (back left)
Skyler with mother Shelly and Garrett Martin, faculty nominator (left) and Tracy Copeland, club President (right)
RSSA Jan-Feb 2019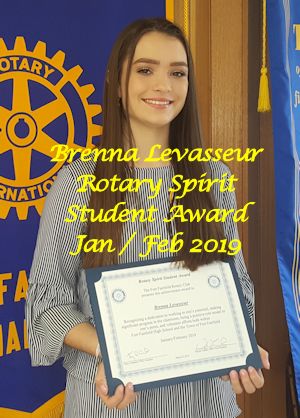 Fort Fairfield Middle High School (FFMHS) students Brenna Levasseur and Jonas Armstrong, Rotary Spirit Student Award (RSSA) recipients for school year-quarter January/February 2019, were recently honored at a club breakfast. Brenna, nominated by Kelly Koziol, and Jonas, nominated by James Smith and Jacquie Martin were recognized for their achievements in academics, citizenship, and personnel development. Each recipient received a recognition certificate and an iTunes gift card, will have their photo displayed at FFMHS, and is now eligible for RSSA Student of the Year selection and recognition during Honors Night at school-year's end.


Brenna and Jonas receive their RSSA certificates from Rotarian Larry Plant.


Brenna and family with Kelly Koziol, FFMHS nominator (front-second from right) and Tracy Copeland, President (back-left)


Jonas with family and James Smith, FFMHS nominator (back-center) and Tracy Copeland, President (back-right)


Family and freinds enjoy presentation ceremonies


Tracy Copeland, President, explains the Rotary Spirit Student Award (RSSA) program to the audience.


Vidalia Onions Fundraiser
With all the snow still hanging around I know it is hard to believe, but it is Vidalia Onion Sales fundraiser time. Oh my! I can hardly wait for these sweet beauties to arrive. So here's the scoop: still $25 for a 25 pound bag, order by 30 April for delivery around the second weekend in May. As usual the delivery date is somewhat fluid since it depends upon when the farmers can harvest in Vidalia, Georgia. If you ordered in the past you should be hearing from a friendly Fort Fairfield Rotary Club Rotarian but if you don't please give Dianna, (207) 540-8818, or Carl, (207) 551-1495, a call. Also, please don't forget that not only will you be enjoying these beauties you will also be supporting a wide variety of community and regional needs. We are all volunteer Rotarians so proceeds go towards helping others. Order now, ENJOY, and a big in-advance THANK YOU!